We provide a range of Voice, PBX, Ethernet and Data cabling solutions, whether you're a small business or large corporate office with voice, data and PBX requirements.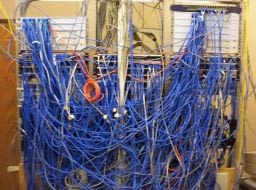 Our highly experienced, dedicated and fully trained ACA Licensed Technicians offer a complete service from design through to documentation. We pride ourselves on being at the forefront of the latest technologies in UTP, GigaBit Ethernet, KRONE HIGHBAND 25, Structured cable design, Cat5e, Cat6, wireless LAN, wireless networking, wireless WiFi Hotspot, and fiber optic cabling installation and cable management systems.
We only use the highest in quality products in all our installations to guarantee quality.
Ensure you have a registered cabler installing your data and voice cabling.
Messy and unorganized cabling can cause confusion when diagnosing issues with your data and communications network!
Quite frequently we discover on installations that another service provider has incorrectly installed your voice and data cabling resulting in packet loss or total failure. As a result, to ensure your network is performing we rectify this immediately. An installer must comply with the AMCA legislation and as such be a registered cabler. To check if your service provider is a registered cabler, follow this link to check the license for your service provider.
Contact us for more information on how we can tailor a Phone System Installation and Data Cabling Solution for your business requirements.